PET Bottles
Address

Driving Excellence Through Quality...
ADMIN. OFFICE :
APT. NO. A-2, METRO TOWER, ACHARYA VIHAR SQUARE,
P.O. - BHOI NAGAR
BHUBANESWAR - 751022
TEL. : (0674) 2545471
REGD. OFFICE & FACTORY :
27/B, CHANDAKA INDUSTRIAL ESTATE
SECTOR - B
BHUBANESWAR - 751024
TEL : (0674) 2972614
Cell: 9861022006/8338084433
Kolkata Factory :
Chandigari, Badu, 24 Parganas (North)
Kolkata - 700 128
TEL : (033) 27116758
Fax : (033) 22150536
Cell : +91-9051069494 / +91-6292216157
Email : calsales@kalingagases.com
Website : www.kalingagases.com
E-mail : preform@kalingagases.com
(For Enquries On Pet Preform Sales)
Email : co2sales@kalingagases.com
(For enquiry on Indl. Co2 & Dryice Sales)
PET Bottles

Driving Excellence Through Quality...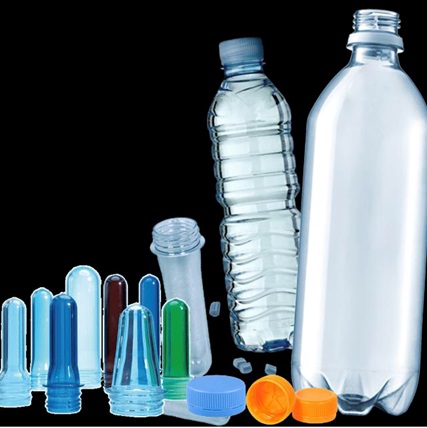 PET or PETE or Polyethylene terephthalate is a strong, stiff synthetic fibre that hails from the family of polymers made with ethylene glycol and terephthalic acid. Almost every plastic water bottle on the planet Earth is made of PET. But what are the properties that make it such a great packaging material, especially for food? In addition to being lightweight, PET containers biologically don't react with food. Apart from this, PET is a strong, non-reactive, economical, and shatterproof product, probably here to save the day. PET's safety for food, beverage, personal care, pharmaceutical and medical applications are recognized by health authorities around the world.
One of the biggest reasons why PET is preferred by many manufacturers is that it is 100% recyclable and highly sustainable. It can be recovered and recycled again and again –– back into containers for personal care products – or into carpet and clothing fibres, automotive parts, construction materials, industrial strapping or other packaging materials.
In 2018, as a forward integration move, the company installed Stretch Blow Moulding machine to make PET Bottles from Preforms. Today, there are a variety of molds, catering to several industries.